MTrek is a text-based multiplayer online Star Trek game. You're in command of a starship. Your goal is to collect gold and earn points by damaging or destroying other ships. Play now in your web browser or connect via telnet at:
TELNET mtrek.com 1701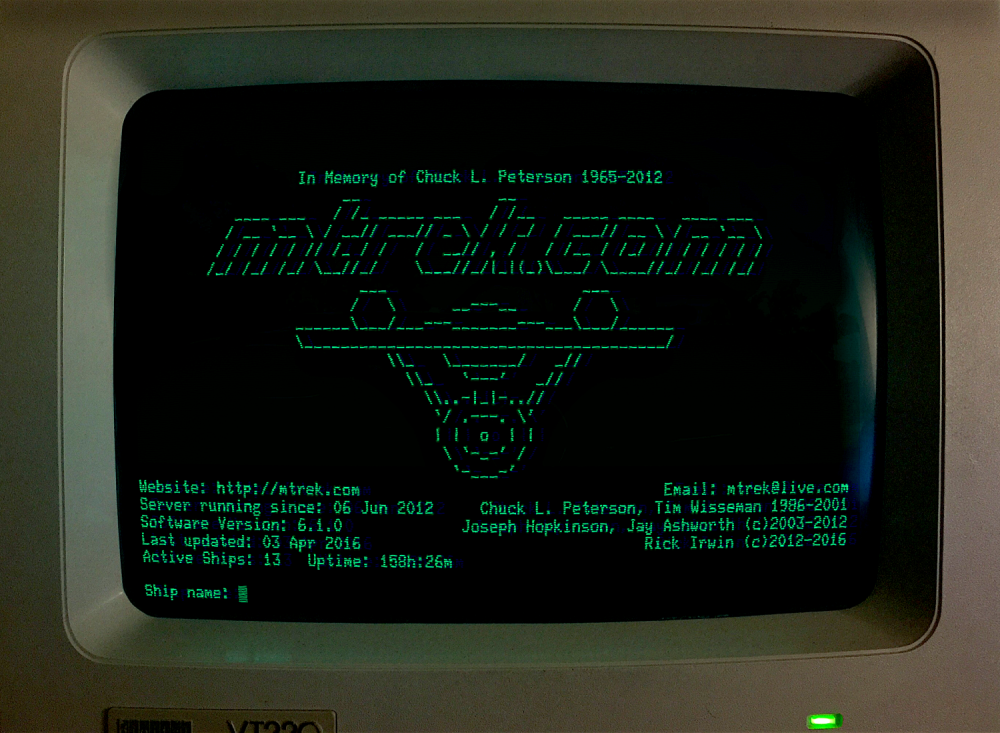 The game on mtrek.com is Proudly Powered by JavaTrek, a 3-D space combat engine based on the original Multi-Trek by Chuck L. Peterson. JavaTrek is an open source software and can be downloaded on GitHub.
---
recent fleet activity
Current Server Time:
2022-09-29 13:40:53

2022-09-28 19:53:09 SLAMBO
2022-09-28 16:00:18 ktekinay
2022-09-28 15:04:49 Pete
2022-09-24 00:29:57 Veni Vidi Vici
2022-09-23 17:08:54 Andersson
---
highest ranked
(overall)
#
Ship Rank
Ship Name
Class
Gold
Cfl
1
FLEET ADMIRAL *IX*
MAGA!
VORCHA
1844937
2168
2
FLEET ADMIRAL *VIII*
Mow'ga
D-10
1456032
1224
3
FLEET ADMIRAL *V*
USS Voyager
INTREPID
658865
491
4
FLEET ADMIRAL *V*
Rotarran
D-10
776413
556
5
Fleet Admiral ***
Diamond 001
AVG IX
1026739
639
---
top performers
(flown this week)
#
Ship Rank
Ship Name
Class
Gold
Cfl
1
FLEET ADMIRAL *IX*
MAGA!
VORCHA
1844937
2168
2
FLEET ADMIRAL *VIII*
Mow'ga
D-10
1456032
1224
3
Fleet Admiral ***
Diamond 001
AVG IX
1026739
639
4
FLEET ADMIRAL *V*
Rotarran
D-10
776413
556
5
Fleet Admiral **
Diamond 002
AVG IX
907599
405
(flown today)
#
Ship Rank
Ship Name
Class
Gold
Cfl
1
FLEET ADMIRAL *IX*
MAGA!
VORCHA
1844937
2168
2
FLEET ADMIRAL *VIII*
Mow'ga
D-10
1456032
1224
3
Fleet Admiral ***
Diamond 001
AVG IX
1026739
639
4
FLEET ADMIRAL *V*
Rotarran
D-10
776413
556
5
Fleet Admiral **
Diamond 002
AVG IX
907599
405
---
hotlist
(rising ships)
#
Ship Rank
Ship Name
Class
Gold
Cfl
1
Petty Officer
DM4E
LARSON
10065
24
2
Petty Officer
DM11
LARSON
8386
22
3
Petty Officer
Lurking Fear
KEV-12
3767
18
4
Crewman
DM4F
LARSON
6403
9
5
Crewman
Elvis
CDA-180
4308
4
(launched this week)
#
Ship Rank
Ship Name
Class
Gold
Cfl
1
Crewman Basic
GRIEF
LARSON
2665
1
(launched today)
#
Ship Rank
Ship Name
Class
Gold
Cfl
1
Crewman Basic
GRIEF
LARSON
2665
1
---
notable deaths
(past 90 days)
#
Ship Rank
Ship Name
Class
Gold
Cfl
1
MstChf Petty OFC
DM3A
LARSON
14099
53
2
SrChf Petty OFC
DM4G
LARSON
17558
33
3
Chf Petty OFC
DM4G
LARSON
15462
35
4
Petty Officer
DM4G
LARSON
11712
25
5
Petty Officer 1C
DM11
LARSON
10880
31
(died this week)
#
Ship Rank
Ship Name
Class
Gold
Cfl
1
Crewman 1C
GRIEF
LARSON
4478
12
2
Crewman Basic
GRIEF
LARSON
0
3
3
Crewman Basic
GRIEF
LARSON
0
1
4
Crewman Basic
sldkfj
II-A
0
1
5
Crewman Basic
U.S.S. Ultima
GALAXY
0
1
(died today)
#
Ship Rank
Ship Name
Class
Gold
Cfl
1
Crewman 1C
GRIEF
LARSON
4478
12
2
Crewman Basic
GRIEF
LARSON
0
3
3
Crewman Basic
GRIEF
LARSON
0
1
4
Crewman Basic
off
KBOP
0
0
5
Crewman Basic
rybelsus
II-A
0
0