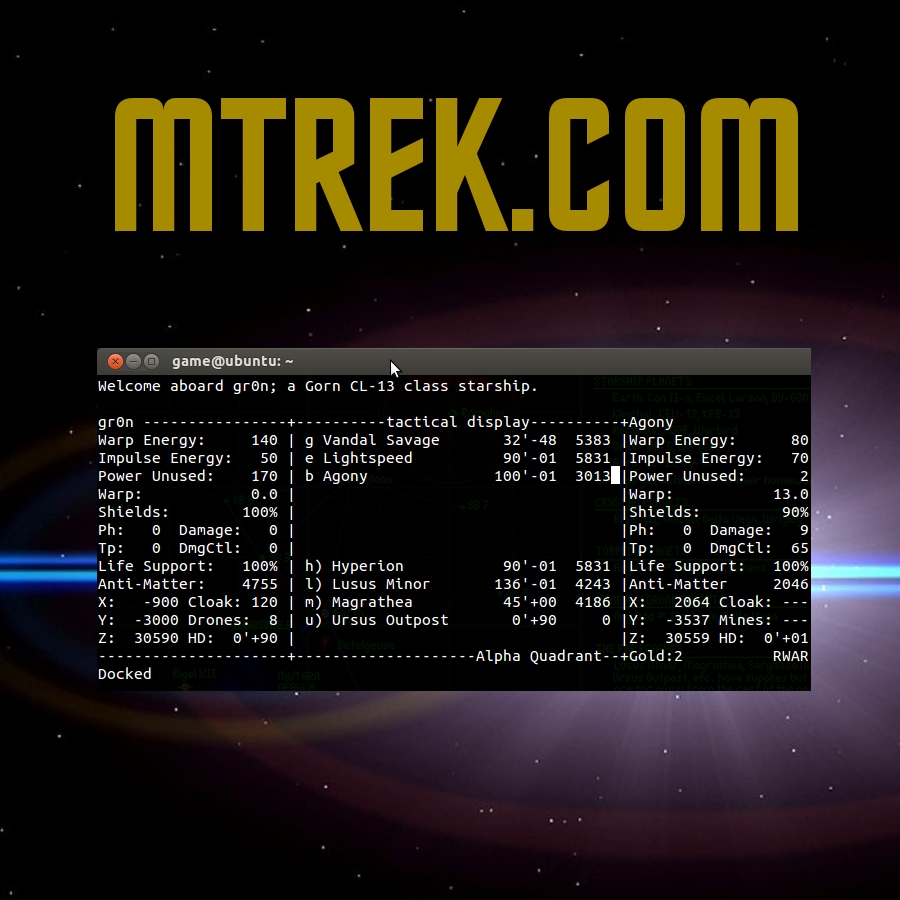 Nearly 30 years ago at the University of California Santa Cruz, Tim Wisseman approached Chuck L. Peterson with some early ideas for a text-based space combat simulator. Chuck (widely known only by his initials, "clp" or his UCSCB username, "rush") ran with the idea and eventually went on to write the popular game Multi-Trek. This game was ground-breaking. In 1986, there was nothing else like it, because most games were local-play only, turn-based, or single-player. Clp's MTrek was quite possibly the first online game powered by an actual 3-D engine, and the first to use a real-time movement system to navigate through a persistent 3-D world. Combine those features with a massively multiplayer sandbox environment, and you have the original formula that evolved into the popular MMORPGS and Shooters of today. It can certainly be debated whether Multi-Trek directly influenced the evolution of the gaming industry, or if it was simply years ahead of its time. Regardless, MTrek has earned a place in internet history.
To celebrate three decades of awesomeness, mtrek.com's newest fork of JavaTrek (mtrek.com 6.0) will be codenamed MTrek 3D. The initial planning phases have already begun, and you can expect to see an open beta or two in the coming months. A lot of the details are still being ironed out, but a few things can be counted on:
The server will run faster, and with (knock on wood) fewer bugs.
There will be more ship classes to choose from, including two all-new ships.
The Cardassian CDA-180 will finally become a respectable ship.
The Constitution II (minus the "A") will rise from the ashes of MTrek lore.
The mtrek.com website will be freshened up.
A renewed campaign for more players will ensue.
Stay tuned for more news. The first MTrek 3D open beta will likely occur in early-mid December, but no promises. The official public release of MTrek 3D is anticipated in April or May 2016.
-obit